Symposiums
Bona Fide Fair Fashion™ sponsors a series of symposiums. Our symposiums bring together the most powerful sourcing professionals and industry executives who represent the largest retailers, brands, manufacturers, trading companies and agencies. Each symposium will have a topic narrow enough in focus that tangible short-term and long-term goals can be achieved.
Our first, a 2.5 day Bona Fide Fair Fashion™ Symposium, focuses on Bangladesh. (see our presentation)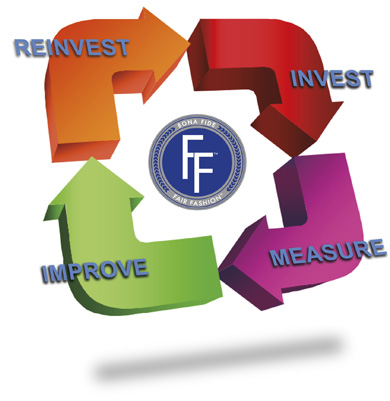 Symposiums Vision:
Our Goal is to create an alliance of brands, retailers and manufacturers
Our Concentration is how to best use our collective buying power toward sustainable development in emerging countries
Our Focus is on human rights, worker's rights and fair wages in existing factories
Our Goals Include:
Strategizing how to hold factories responsible without sacrificing the quality of their products
Strategizing how our investments can be used creatively to create a more eco-friendly and sustainable industry
Combining our buying power to disallow factories from declining to adhere to international standards and human rights guidelines
Empowering local workers
Positioning the fashion industry as a leader in ethical, sustainable practices for other industries to follow
Our Synergistic Approach:
Bona Fide Fair Fashion™ Symposiums heighten awareness of how an environment can be created for sustainable economic success which will create more jobs and opportunities
Invest
Measure
Improve
Reinvest
Who Should Attend?
Bona Fide Fair Fashion™ Symposium Series is intended for the Fashion Industry's Global Business Leaders and High Ranking Sourcing Professionals
Why Should I Attend?
Profitability through Sustainability
Protect Brand Value
Corporate Responsibility
Learn about new hot topics like Bona Fide Fair Fashion™ Program