Peter Kaufman, Founder of Bona Fide Fair Fashion™ had the great honor to participate in The Senate Committee on Foreign Relations hearing on Labor in Bangladesh, June 6, 2013. His statement is now part of the Congressional record.
Download the transcript of the Hearing (PDF)
Download Peter Kaufman's statement (PDF)
SENATE COMMITTEE ON FOREIGN RELATIONS
ROBERT MENENDEZ, New Jersey, Chairman
Senators present at the Hearing: BARBARA BOXER, California, BENJAMIN L. CARDIN, Maryland ROBERT P. CASEY, JR., Pennsylvania, JEANNE SHAHEEN, New Hampshire, CHRISTOPHER A. COONS, Delaware RICHARD J. DURBIN, Illinois, TOM UDALL, New Mexico, CHRISTOPHER MURPHY, Connecticut, TIM KAINE, Virginia BOB CORKER, Tennessee, JAMES E. RISCH, Idaho, MARCO RUBIO, Florida, RON JOHNSON, Wisconsin, JEFF FLAKE, Arizona, JOHN McCAIN, Arizona, JOHN BARRASSO, Wyoming, RAND PAUL, Kentucky.


An important link to a bibliography of Bengladesh
Among the numerous illustrious attendees at the F4D Round Table discussion on the Fashion Industry and South-Sahara Africa as well as other UN functions he attended, Mr. Kaufman met :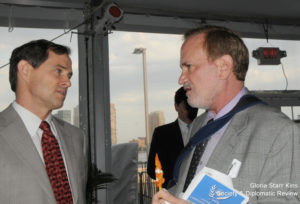 With Dr. Robert C. Orr
With Roberta Annan, Chair of F4D Africa
With Ki-Ja Chung, Chair of WF4D Asia, and an Ambassador to the UN
With a VIP at the United Nations